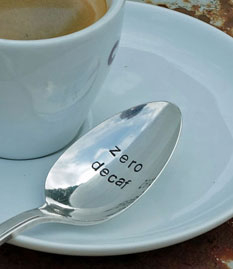 I can help you achieve a "zero decaf" approach to your coffee marketing  in a variety of ways.
How we make this happen depends on the size and age of your company, and the current level of sophistication of your online marketing.
If you are a startup, I can help you bake smart, caffeinated online marketing into your broader business plan.
If you are an established company, I can help you improve on the reach and performance of your online marketing in the three ways mentioned on the homepage.
Here they are again…with a little more detail:
I can help you differentiate your coffee brands and clarify your positioning to help you compete. (i.e. Help you stand out from the crowd, big time.)
The specialty coffee industry is growing and changing fast. New players seem to open their doors each day, whether they are launching a new brewer, a new coffee grinder, or a new roasting company.
How do these new arrivals impact your positioning? Are they competing for the attention of your own customers and prospects? Is the way you chose to differentiate your business a couple of years ago still working for you today?
Whether your company is large or small, new or well established, you have to respond to changing market conditions. Your positioning needs to adjust, and the ways in which you differentiate your products needs to change. If not, you'll become lost in the crowd and lose your advantage.
My help in this area can take a couple of different forms.
After being thoroughly briefed by you and your team, I can write a report on your current positioning, and the messaging you use to differentiate your brand or brands, and then offer a set of recommendations to strengthen your position for the future.
Or, if you have already determined the changes you want to make, I can just focus on the messaging. Design and imagery are important to any brand or product, but the heavy lifting is still achieved with words. I'm talking about the key headings and messaging on your website's homepage, as well as the language and messages you share through your interior pages, email communications and through social media.
What you say and how you say it has a profound impact on how your products are perceived.
I can help you build your audience and deepen customer loyalty by telling your most powerful stories through web content and social media. (i.e. Find, create and share your best stories.)
Without their story, coffee beans would be boring. Just beans in a bag. And without its story, a coffee maker is about as interesting as a toaster.
It's story that brings coffee and gourmet coffee making to life. And coffee is truly blessed when it comes to storytelling, whether you are talking about the farmers who grow it, the roasters who roast it, or the people who brew and savor it at home. (Just be thankful you're not in the industrial fastenings business. Not many interesting stories there.)
Just as important, stories are powerful sales tools. They capture people's imaginations, change opinions and preferences, and protect and deepen a customer's level of loyalty.
And fortunately for you, the social web and storytelling are made for one another. If you can create a storyline that is both appealing and on-brand, that story can travel from person to person across the web.
But success through storytelling is not as simple as just telling the occasional story about your favorite coffee farm or master roaster.
And that is where I come in.
I can help you develop a storytelling strategy, share your stories through web content and social media and ensure that your social media calendar is integrated with your content calendar, and that your content calendar is integrated with your marketing calendar.
I can also deliver on the execution of the plan, creating and managing the web and social media content you need, when you need it.
I can help improve your online sales by optimizing the sales funnels within your website, and increasing conversion rates on your product sales pages. (i.e. Apply the science of what actually works.)
There is both an art and a science to converting website visitors into buyers.
This speaks to my core skills. I am an experienced copywriter and understand the language of persuasion online. (See Credentials.)
I also know the science of selling online, and have crunched the data on what works and what doesn't. (Again, see Credentials.)
If you are selling direct from your website, whether coffee makers, coffee beans or subscriptions, you site cannot simply be decorative and informative.  Every page on the site has to move your visitors forward to your sales pages. And your sales pages have to maximize the conversion of readers to buyers.
Small changes to your messaging, linking text, sales page design and sales page copy can have a huge impact on sales.
I can review you site for you and identify ways to improve the flow of readers from your homepage to your sales pages, and I can rewrite your sales pages to maximize conversions.
My approach to creative selling.
I'm a creative pragmatist. As a marketer and copywriter I am creative, but I have no patience for creativity that is decorative, self-serving or self-indulgent. I use creativity to sell your products and services, not to make myself look good.
In the words of advertising legend, David Ogilvy…
"If it doesn't sell, it isn't creative."
Do I do everything myself?
For the most part. For consulting, report writing, copywriting and site and sales page optimization, you get me. If we get into creating a large volume of content for your site or for social media, I'll call on some trusted associates to help me out. The same goes for any design or web development work.
Pricing
I don't have any kind of pricing menu board. All projects are estimated individually. You'll find I'm more expensive than your average freelancer, but less expensive than your average ad agency or marketing group.
Keep reading…
Find out about my credentials…
Get in touch through my contact page…
Coffee companies I have worked with, past and recent: