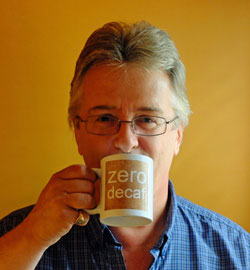 My name is Nick Usborne and I'm on a mission to take the decaf out of coffee marketing.
Whether it's in your cup or in your marketing, decaf just isn't right.
My credentials
My credentials fall into two separate areas… my credentials in business, marketing and copywriting, and my credentials in the world of coffee.
As you'll see, I not only know how to write and sell online, but I also know your company's customers intimately…because they are my readers.
Keep reading to find out what I mean by that.
My credentials in business, marketing and copywriting
I have been a professional copywriter and marketer for over 30 years. For most of that time I have worked for myself, as a freelancer and consultant.
For the first 15 years I was a direct response copywriter, working mainly in direct mail. Over that period I won 15 awards for my direct response work, in both Europe and North America. (These awards were given out based on results, not on looking pretty or sounding clever.)
In 1998 I switched tracks and began working exclusively online, on the web.
In 2002 I wrote one of the first books on the craft of writing for the web, Net Words, published by McGraw-Hill. It's still a strong seller today.
In 2009 I spent a year contracted with MECLABS, the world's largest independent research lab focused exclusively on marketing and sales. As a Senior Analyst I was involved in analyzing thousands of online tests, across numerous websites, online sales pages and email campaigns. I learned what works online and what doesn't, with the data to prove it.
Over the period between 1998 and today I have worked as an online writer, marketer, optimization expert and trainer with numerous companies, including…
J. Paul Getty Trust, MSN.com, Encyclopedia Britannica, Nabob Coffee, New York Times, Country Financial, Reuters, WebEx, Yahoo!, Intuit, Walt Disney Attractions, Association of American Publishers, Novartis Pharma, John Deere, National Cancer Institute, Merck & Co., Textron, and the Information Technology Media Advisory Council.
I have also worked as a consultant and advisory board member to a number of online startups.
"Something that's stuck with me since working with Nick in the early Internet days of the 90's was his insistence on maintaining clarity of voice and purpose, always with the customer in mind. But his ability to teach us how to do that made the real difference. Our success today is certainly based, in part, on Nick's guidance."
Jay Steinfeld, Founder/CEO, Blinds.com
"Ninety minutes expert chat with Nick Usborne provides more insights than a full day at most marketing conferences. He is an accomplished online marketer and copywriter, a passionate, brilliant consultant, and (crucially) a dream to work with."
Justin Deaville, CEO, Wordtracker
"The best writers are also clear thinkers who can distill complex issues and processes into something entirely more manageable. Nick does this well as a writer, certainly. But his talents apply more broadly to business as well. He has a real talent for seeing through the clutter, and recognizing what works and what doesn't work when marketing online."
Ann Handley, Chief Content Officer, MarketingProfs.com
"Nick has an exceptional knack of cutting quickly through to the essentials; he's a very good listener, which makes him a very good communicator. As with all good mentors you emerge from a session with Nick happy you have found the answers all by yourself".
Richard Gourlay, Managing Director, Sussex Place Ventures
My credentials in the world of coffee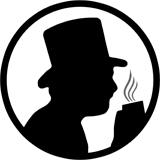 My credentials here are on the consumer side.
I am the publisher and writer of a coffee information site, CoffeeDetective.com. The site has over 1,000 pages about every aspect of making gourmet coffee at home. I wrote those pages.
More importantly, I encourage my readers to comment and submit their own content.
The site went up at the beginning of 2006 and now attracts an average of 100,000 readers a month. Every week since the launch of the site I have been listening to the feedback, opinions, praise and complaints of coffee lovers who make gourmet coffee at home.
In other words, for the last 9 years I have been listening to your customers. I know them very well indeed. I know what they want.  (I poll my readers with surveys from time to time - to see which coffees they are buying, how and where they are buying their coffee, and which brewing methods they prefer.  You can see the survey results here.)
Just the blend you need
There are other coffee business consultants, marketers and writers out there. Some may have an equivalent level of experience and expertise in marketing online.
And there are researchers and publishers who may have an equivalent knowledge of regular gourmet coffee lovers, and what they want when brewing coffee at home.
But does anyone else blend both areas of expertise into one, "zero decaf" package? Maybe, but I doubt it.
Keep reading…
Find out more about how I can help you…
Get in touch through my contact page…
Coffee companies I have worked with, past and recent: