As you scroll down you'll see the results from various surveys I have conducted.
The audience I polled are the readers of my consumer coffee website, CoffeeDetective.com. That's where I get to write for regular gourmet coffee drinkers, listen to their feedback and hear their opinions. And that's where I posted these polls. Some of the participants happened across the surveys while exploring the site, others followed links from the Coffee Detective Newsletter and from social media.
If you're in the coffee business, these are your customers. So you might want to keep reading and check out their preferences.
Do my readers represent every layer of specialty coffee drinkers equally? No, I don't believe so. My sense, after 7 years of listening, is that these survey results represent the views of gourmet coffee drinkers who make up the middle ground. Few would buy a can of Maxwell House, and few would seek out a single estate coffee, weight the fresh ground coffee to the nearest gram, and check the water temperature with a thermometer before pouring it onto the grinds in a Chemex brewer.
Buyers of Maxwell House and users of Chemex brewers are certainly represented here, but are proportionately under-represented compared to that large center field of people who love gourmet coffee, but don't go to extremes.
The results:
Do you buy light, medium or dark roasted coffee?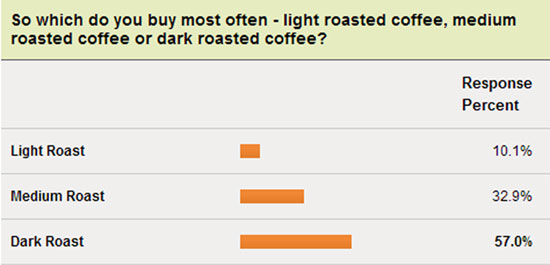 Which brand of coffee do you drink the most?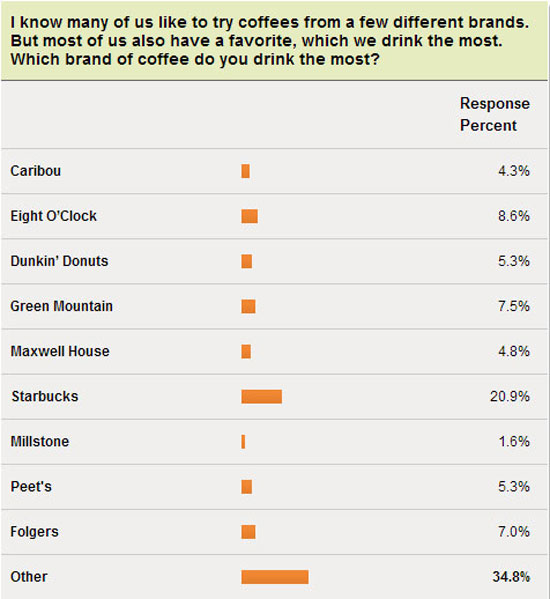 What kind of coffee maker do you use the most?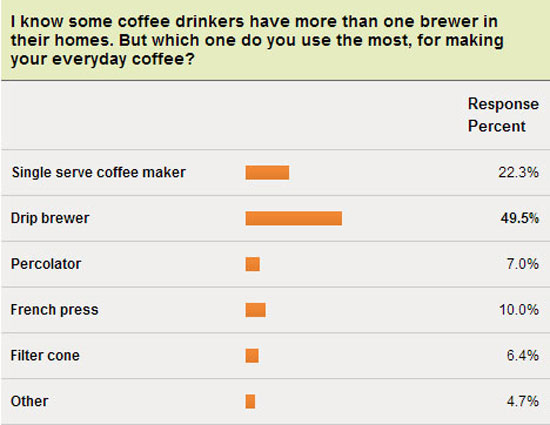 Where do you buy your coffee?
(Yes, I know your customers. You can learn more about my consulting and writing services here.)