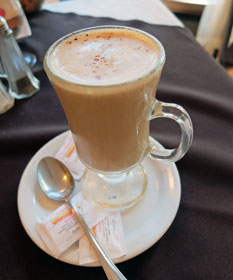 Several times over the last few weeks I have enjoyed really nice meals at some excellent restaurants.
Great care was taken with the food and its presentation.
The service was great.
But in every case the coffee I ordered at the end of the meal was a crashing disappointment. In fact, I am writing this within a couple of hours of enjoying a wonderful meal culminating in a Cafe Latte that tasted like it was made with instant coffee and warm milk.
That's really bad news for the restaurant, because the coffee comes at the end, and creates one's final impression of the overall meal and experience.
Why was the coffee so bad? I don't think it was about the coffee they used, or the quality of their equipment. In today's case I think it was simply because the person using the equipment didn't know what he was doing.