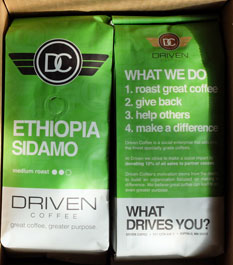 I was recently sent a couple of bags of coffee by Driven Coffee, out of Minneapolis.
The instant I opened the shipping box those two bags of coffee made a strong and positive impression.
They looked good. They were professionally designed. The messaging was simple, on-target and powerful.
More important, I was now inclined to like and enjoy their coffee.
Does the design of the bags actually have anything to do with the coffee inside them?
Of course not.
But for everyone except professional cuppers, the coffee-tasting experience is largely subjective. We like a coffee more if we are expecting to like it.
That's why the interiors of Starbucks coffee shops are designed the way they are.
And it's for that same reason that it's so important to have your coffee bags well designed.
If you are selling your coffee online, you can't use the ambience of a coffee shop to raise people's expectations or make them feel at ease and more inclined to like your coffees.
You have fewer opportunities to touch on people's subjective feelings about the coffees you sell.
In short, both your coffee bags and your website have to do the heavy-lifting in this regard. They have to look good. They have to signal professionalism and care. They have to make your customers and prospects anticipate that you deliver a quality brew.
That's why companies like Driven Coffee have the odds stacked in their favor. They look good at every turn. And their messaging in clean and well presented.
They may not have a fancy coffee store they can use to sway my opinion before I order, but they have done an excellent job with the tools they have at their disposal.
Your company should do the same.