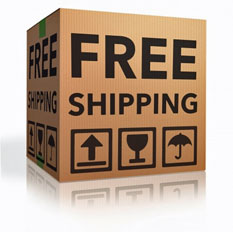 It would be nice to think that the future of your coffee business will turn on the quality of your coffees and your service.
If you have a coffee shop, that may well be the case.
But if you sell coffee online, there is another factor that has the potential to sink your dreams.
Shipping rates.
Put simply, if you sell a pound of coffee for $9 and the shipping cost you pass on to your customers in $9, you just doubled the price of your product. And nobody wants to pay double for their coffee when they can just run down to the corner store and pick a bag off the shelf.
True, the coffee they buy may not be as good as yours. But even so.
The thing with shipping costs has been an issue for ecommerce from the outset, almost 20 years ago.
It's less of a problem if you're selling a high-ticket item that doesn't weigh much, like a watch, or a bracelet. An $8 shipping charge on a $200 product doesn't hurt so much. But when you sell a low-ticket item, like a bag of coffee, it's a whole different story.
In the coffee business we try to get around this by encouraging our customers to buy several bags at a time. That way we can offer them free shipping.
But what about all those first-time customers who just want to try your coffee? They don't want to buy 4, 6 or 8 bags. They want to buy just one.
And yes, that's a problem. Because the growth of your business depends on attracting new customers to your website.
And it's these new customers who are going to be faced with the biggest barrier to completing their first purchase – sticker shock in the shopping cart. Yes, that's why you have such a high shopping cart abandonment rate. You're losing your first-time customers because of the cost of shipping.
But wait…there's more. This problem is about to get a whole lot worse.
If you want to be an expert on the topic of shipping costs, pay attention to what Amazon does. Amazon has been acutely aware of this issue from the day they launched. Hence the creation of Amazon Prime. With Prime a customer pays a flat rate annually, and gets all their shipping free.
Can you compete with that?
Now take a look at what Google is up to. Confined to the San Francisco Bay Area for now, Google Shopping Express offers same-day delivery from a variety of local stores. And as part of their launch strategy, they are offering same-day delivery and free shipping for the first 6 months. Yes, they'll deliver your competitors' coffee from a local store, free, and on the same day.
Now think about what will happen if they expand that service and offer nationwide.
If both Amazon and Google are working this hard on shipping costs – not to mention same-day delivery – that should tell you something about the future of ecommerce.
What can you do about this?
First, I would go back through your supply chain and look for ways to increase your margins, so you can reduce the shipping costs you pass on to your customers.
Second, for first-time customers, I would swallow the cost and offer them free shipping on their first purchase. Yes, this may mean you'll make nothing on the sale. It might even cost you two or three bucks.
But you will have acquired a new customer.
And if that customer comes back to buy more, you will quickly recoup your investment.
If either your coffee or your service isn't good enough to make them want to come back a second time…well, you have a whole different set of problems.