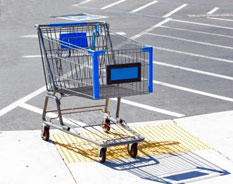 One of the mistakes many people in ecommerce make is to fail to pay attention to the number of clicks and pages between their homepage and that final purchase confirmation page.
It doesn't matter whether you are selling coffee beans, coffee grinders, coffee makers or, for that matter, books or sneakers.
Every step between arriving at your site and completing a purchase reduces conversion rates.
Let's look at those steps, and how we can reduce their number…
The process a visitor goes through when wanting to buy something on your site is divided into two phases.
Phase one - when people arrive on your homepage - comprises the number of clicks it takes for your prospective buyers to find the exact product they are looking for.
If you are selling just a small number of products, this shouldn't be a problem. You can feature each product on your homepage with a link directly to the product sales page.
If you are selling dozens of products, things get more complicated. You have to organize them into groups or categories, and link from your homepage to the group or category page. From there people can choose an individual product and click through to the product page.
The trouble is, when you add that extra page, your conversion rates go down. The greater the number of clicks and pages, the few the number of people who will stick with you.
One way around this is to look at your sales data and identify your four or five bestsellers. Keep the links to your category pages, but feature your bestsellers on the homepage, with a direct link to the product page.
This is all about the math.
You need to study your sales data. Study your analytics data. And then make sure that your biggest money-makers get a premium spot on your homepage.
But the thing you absolutely have to obsess over is minimizing the actions a visitor has to take before finding the product page they want and then clicking that Buy button.
Phase two of this process takes place within the shopping cart itself.
Ecommerce sites will often lose 50% or more of their buyers within the shopping cart. This can be hugely frustrating. After all, if someone has placed items in the shopping cart, why on earth would they then abandon the cart before completing their purchase?
The answer to that is that you have made the process too long and too complicated.
For example, I have seen shopping carts that take buyers through a 7-step process. That's crazy and will decimate your conversions.
The simple rule is this: The fewer the steps and pages, the higher your conversion rate.
My advice is to do what it takes to collect all the information you need on a single page. And never ask for more information than you absolutely need in order to process the purchase.
Summing it up…
The number of actions a visitor needs to take isn't the only factor that determines ecommerce conversion rates. But it's probably the biggest factor. (I'll talk about other factors in future posts.)
Think of every click and every page as a hurdle between your visitor and the finish line.
Then remove as many hurdles as you can.
NOTE: If you suspect your coffee company needs help improving its site's conversion rates, feel free to contact me for some help. I'm a conversion rate freak!