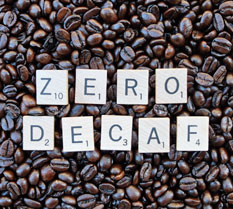 Who writes websites?
Who are these people who sit down and write homepages, category pages, sales pages, blog posts and all the other written content on a typical coffee site?
In the case of small companies it might be the founder of the company who does most of the writing. Or one of his or her employees.
If nobody feels particularly comfortable doing all that writing, maybe a freelancer is brought in to do the heavy lifting. With larger companies, there may be a writer or two employed in-house. Or they may get their ad agency to handle it all.
My own experience with startups and small companies suggests that a lot of that writing is done in a hurry. The site's design is ready, the backend is in place, and now you just need someone to fill in the spaces with some words.
Those who know me well will at this point be looking for the nearest emergency exit. Because they know this casual approach to the words on a website gets my blood boiling.
Without the right words on your site you will condemn your business to a mediocre performance. Yes, your site should look great and perform well. But it's the words that capture new customers, drive the sales and keep people coming back.
Don't be casual about the writing on your website. Treat it as seriously as any other aspect of your business. If you are a coffee roaster, you have a top-notch roast master. If you sell coffee-making equipment you have photos taken by a professional photographer. By the same token, you should also use a top-notch, professional writer.
In fact, you may need to use more than one writer, because different parts of your site will demand different writing skills, depending on their purpose.
Here are four of the principal areas for which you need great web writing.
1. The words that help move people forward
These are written by someone familiar with website architecture and usability. They are all over your home page. They are the words on the tabs and other principal navigation links. They are the text links within the main area of the page that help people find what they want.
2. The words that define your brand and differentiate your business
These will usually be written by a copywriter. Your tagline, headline and the principal subheads on your homepage are the hardest words on your website to write. With these few, short lines you need to define your brand and differentiate your company from all its competitors. Not easy.
3. The words that engage and delight
This refers to your information pages, blog posts and social media updates. Typically this work will be done best by a content writer who knows both your business and your customers intimately. This content isn't about selling – although it may be about pre-selling. It's about building trust, deepening relationships and turning your readers and customers into fans and advocates for your coffees or equipment.
4. The words that sell
Back to the copywriter. All too often sales pages are written simply as descriptions. All about the features of a brewer, or the origins and roast of a coffee.
Not good enough! If you fail to convince your reader that he or she really, really wants what you're selling, you will have a disappointing conversion rate from your sales page, and way too many people bailing from the checkout page. A smart copywriter knows how to deepen the commitment to buy.
Wrapping it up…
Take the writing on your website seriously. Good design makes you look good, but it's the words that make the sale.
And just as you wouldn't hire a so-so designer to design your site, don't hire so-so writers and copywriters to write the text.
Note: If you need help with the writing on your coffee website, please contact me.