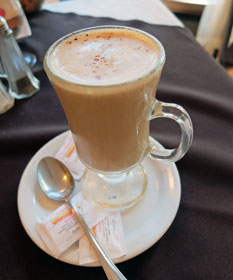 Several times over the last few weeks I have enjoyed really nice meals at some excellent restaurants.
Great care was taken with the food and its presentation.
The service was great.
But in every case the coffee I ordered at the end of the meal was a crashing disappointment. In fact, I am writing this within a couple of hours of enjoying a wonderful meal culminating in a Cafe Latte that tasted like it was made with instant coffee and warm milk.
That's really bad news for the restaurant, because the coffee comes at the end, and creates one's final impression of the overall meal and experience.
Why was the coffee so bad? I don't think it was about the coffee they used, or the quality of their equipment. In today's case I think it was simply because the person using the equipment didn't know what he was doing.
A simple coffee marketing strategy for roasters...
If you are a coffee roaster or local distributor, you can step in and offer a local restaurant's staff some free training. Show them how to use their equipment, or recommend some new equipment if necessary. Teach them how to make a great espresso, cappuccino, latte and so on.
In return for which, you can become their new source of coffee. You can also negotiate some exposure within the restaurant.
For example, you could provide:
Branded mugs and espresso cups
Branded coasters
Tent cards, postcards etc
Bags of coffee for sale at the restaurant
How much of this would be acceptable to the owner will depend on the quality of the relationship you build.
But don't undersell yourself, because you are offering huge value as well. Instead of people leaving the restaurant disappointed, they'll leave after the high point of enjoying some really good coffee after their meal.
Another reason to target quality, independent restaurants is that their customers are also your ideal prospective customers. It's a perfect match. They have money, and they appreciate quality.
Of course. I'm not the first person to suggest this route.
Illy has been getting into restaurants for a long time. And there are plenty of independent roasters who have already done what I'm suggesting. But they represent a tiny proportion of the total number of relationships that could exist between roasters and restaurants.
I know who my local roasters are, and I eat out in decent restaurants on a regular basis. But if I think about the last 10 restaurants I have eaten in, maybe just one or two of them served a really, really good coffee. And perhaps just one of those two showcased a local, independent roaster.
In other words, the opportunity is wide open.
If you work at a local roaster, check out all the restaurants in your area.
And if you own or manage a restaurant, do a Google search for your local roasters.
It's a match made in heaven.
NOTE: If you are in the business of roasting or selling specialty coffees, I may be able to help you with your marketing. To find out more, check out my coffee marketing services page.