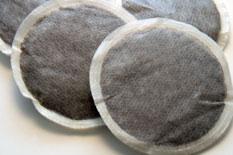 Coffee pods are distinct from K-Cups, capsules, discs and other single-serve units that include plastics and foil in their manufacture.
A coffee pod is simply a plump, round puck of ground coffee contained in a paper filter.
Using a coffee pod in a pod brewer, or a multi-head brewer that can accommodate pods, offers all the same advantages of any other single serve system.
No mess. No fuss. One-button coffee. The coffee of your choice on demand.
However, coffee pods don't suffer the significant downside of other single-serve packing. In a nutshell, coffee pods don't include plastic or foil.
You can toss a used coffee pod into your compost, or simple break it open over your flower beds. It has no environmental downside. In fact, it has an upside.
But when you use a K-Cup, it's a whole different story. It can't be composted or recycled. It goes in the trash. In fact, over a billion K-Cups are now buried in landfills across the continent. Not to mention overseas.
In addition, K-Cups and their brethren are horrible to store. They take up way more counter space or cupboard space than coffee pods.
Not to mention the fact that coffee pods are cheaper.
So here is the first question we should look at: Why are coffee pods and coffee pod brewers not kicking butt in the marketplace? They have numerous benefits to shout about, plus the huge advantage of having entered the market first.
It's not because K-Cups make better coffee. They don't. Or are more convenient. They're not. Or are cheaper. They're not.
Now for the follow-up question…So what's happening?
Well, to put it simply, coffee pod marketing sucks.
The creators of coffee pod brewers, and the marketers of coffee pods themselves have simply let their competitors, like Keurig, crush them like bugs with superior marketing.
For the coffee pod to make a comeback, its proponents need to get serious about their marketing. And there's tons to talk about, including being green-friendly, easier to store and less expensive.
Of all of those benefits, if I were in charge of marketing coffee pods, I would go with the green story. And I wouldn't just add a line to my website declaring, "We're the green choice!"
Instead I would work with movement marketing, which I wrote about in a previous post.
I know for a fact, through reader feedback on my consumer site on coffee, CoffeeDetective.com, that there are thousands of coffee lovers out there who are very, very unhappy about two elements of the single-serve industry.
1) The really don't like having so much plastic coming into contact with their coffee when they brew.
2) They really, really don't like the waste involved in making a cup of coffee and then sending the used K-Cup, disc or capsule off to the landfill.
These are the people I would reach out to. I would create a movement against plastic and waste. I would get passionate. I would write a manifesto that people could share with their friends and family. I would work the story locally, regionally and nationally.
At this point it seems to me that the coffee pod guys have just thrown up their hands and given up. I don't believe it has to be that way.
I think coffee pods have the potential to seriously fight back. But only if they take the challenge seriously.
NOTE: If you are marketing coffee pods or coffee pod brewers, and want to talk more about this, check out my services page.