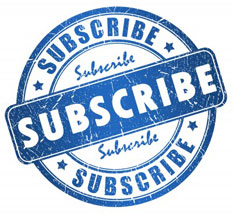 Plenty of online coffee retailers have discovered the benefits of getting visitors to sign up for home delivery coffee clubs.
With each home delivery subscription you have snagged a long-term customer, and these subscriptions can really help even out the cash flow.
In fact, for some coffee companies, this subscription model lies at the heart of their business. This is what they do.
Whether you offer coffee subscriptions as your core offering, or whether it's just an add-on to your traditional online retail site, you have probably noticed that selling subscriptions isn't particularly easy.
Subscriptions are always a challenge because you are asking people to change their buying habits and make a long-term commitment. This is a hurdle whether you are selling subscriptions for coffee or for a magazine. (It's actually a lot easier selling a magazine subscription because you can offer a significant discount on the price.)
If you want to maximize the number of people who sign up for home coffee delivery, there are a few things you need to get right.
1. Don't try to change their existing buying habits
As you can see from these survey results, most people don't even buy their coffee online, let alone through a weekly or monthly subscription. They take the easiest route to coffee purchasing, which is to buy coffee at their local supermarket while doing the rest of their grocery shopping.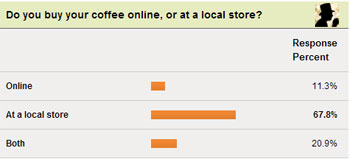 This means they have an established routine, and they are happy with it. They have complete control too. If they have guests coming next weekend, they can buy another bag. If they are off on vacation in a few days, they can choose to buy no coffee at all.
If you try to break this habit you will hit a brick wall. You will be trying to persuade them to change a buying habit that already works very well for them.
The trick then is not to try to change what they already do.
What you have to do is offer something they CAN'T get at their local supermarket, or at their local coffee shop. In most cases, this means offering special coffees that aren't widely available through retail stores.
Don't challenge your prospect. Do ask them to change. Instead, sell them additional coffees they can't get elsewhere. This way, their existing buying habits remain unchanged, and what they are buying is something different and special. For your coffees they'll ignore their single-serve brewer and use their press pot or Chemex.
2. Make subscribing risk-free
The key to selling any kind of subscription is to remove hurdles or perceived barriers. At the heart of this lies the challenge to make the subscription risk-free.
The best way to do this is simply to allow people to unsubscribe at any time.
That sounds obvious, but I was just looking at a coffee home delivery subscription sales page that asked for a 2-year commitment. On another I looked at recently, the company asked for an annual subscription fee.
Both of these approaches will dramatically reduce subscriptions.
Also, "get out of the way". Make signing up simple. Always make the subscription form as short and as simple as it can possibly be. The greater the number of fields to complete, the lower the conversion rate.
3. Build and close the sale with added value
You have to SELL. Customers feel natural resistance to any subscription deal. They don't like to be tied down. (How do you feel about your cell phone contract?)
To counter this resistance, you need a strong sales pitch. You need to make the whole deal feel irresistible.
Feature your most interesting coffees through your subscription service. (And share the stories behind the coffees.)
Offer free shipping. ALWAYS free shipping. (Shipping costs are a huge conversion-killer.)
Add additional value to the subscription…like exclusive Twitter chats with your roaster or founder, for example. Or early access to new coffees or roasts. Or a subscriber-only newsletter. Make them feel special
Give them a gift for subscribing. A mug, some free coffee, a sticker, a magazine subscription. Something!
Wrapping it up…
I have just scratched the surface here. Selling subscriptions is a challenge and fun. (If you want me to help you develop or improve your own subscription service, you can reach me through my Contact page.)
One final thing… Don't make excuses.
"We can't afford free shipping". "The math tells us we have to insist on a minimum subscription period." "We can't afford to offer a free gift."
These are problems for you to solve. If you just try to pass them on to your prospects, they'll turn their backs and walk away.
In other words, work hard to remove any barriers that could lead to your prospects saying, "No thanks".
The secret is to add all the value you can, while removing all the barriers, real or perceived.
Related information: